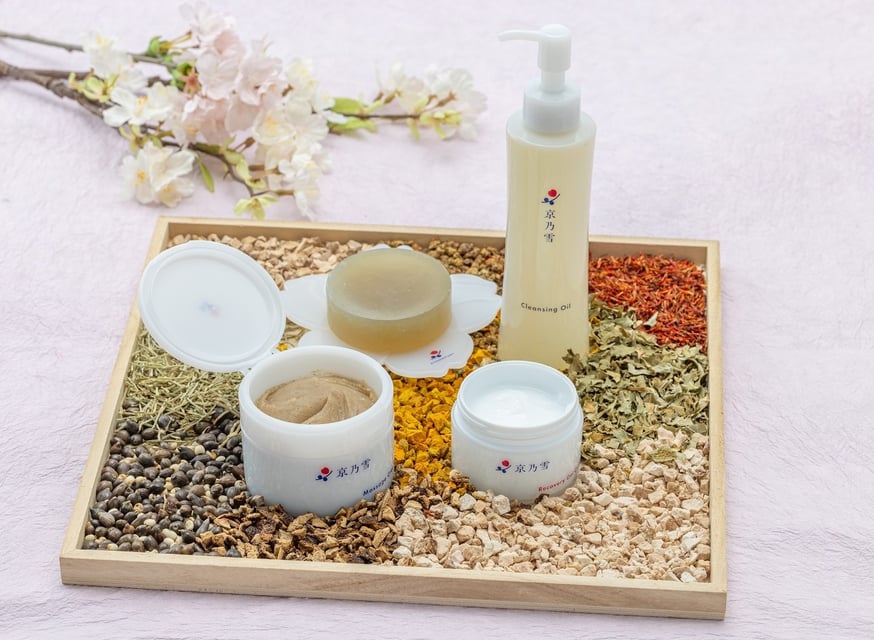 京乃雪商品改版更新了.The product has been renewed.
享受每一天,溫柔呵護肌膚。
誕生於京都的和漢化妝品。
使用可靠的天然素材
27種和漢植物均為日本栽培。
有效利用我們所珍惜的大自然孕育的恩澤。
京都的名水萃取出的精華
由植物萃取出美肌精華的是,京都的天然水。
我們不遺餘力地精心提取。
以簡單的保養,輕鬆地持續
護膚是每天必做之事,因此簡單的四個步驟是基本。
採用環保材質容器
使用源自甘蔗的生物塑料和含有綠色納米材料的容器,可減少最終處置過程中的二氧化碳排放量。
※材質因產品而異
7種無添加,對肌膚溫和
無添加對羥基苯甲酸酯
無添加矽氧樹脂
無添加酒精*
無添加人工色素
無添加人工香料
無添加石油界面活性劑
無添加礦物油
※只有肥皂在製法上使用
★有推出許多優惠套裝可以選擇
所有購買單品產品的顧客將贈送紀念肥皂盤一個。
★單品10%OFF
★試用旅行組現在可以以優惠價格購入。
1800円⇒30%off
也請今後繼續支持及使用新版的京乃雪
ぜひ、新しくなった京乃雪を今後共どうぞよろしくお願いいたします。
Enjoy every day and take gentle care of your skin.
Wakan cosmetics born in Kyoto.
Use reliable natural ingredients
27 kinds of Japanese and Chinese plants are cultivated in Japan.
Effectively utilize the blessings of nature that we cherish.
The essence extracted from Kyoto's famous water
The skin-beautifying essence extracted from plants is Kyoto's natural water.
We leave no stone unturned and meticulously extracted.
Easily lasts with simple maintenance
Skin care is something you must do every day, so these four simple steps are the basics.
Using environmentally friendly material containers
Using bioplastics derived from sugar cane and containers containing green nanomaterials reduces CO2 emissions during final disposal.
※Materials vary by product
7 types without additives, gentle to skin
No added parabens
No added silicone resin
No added alcohol*
No added artificial colors
No added artificial flavors
No added petroleum surfactants
No added mineral oil
※Only soap is used in the manufacturing method
★There are many discount packages to choose from
All customers who purchase a single product will receive a commemorative soap dish as a gift.
★10% OFF on single item
★Trial travel packages are now available for purchase at a discounted price.
1800 yen⇒30%off
Please continue to support and use the new version of KYONOYUKI in the future